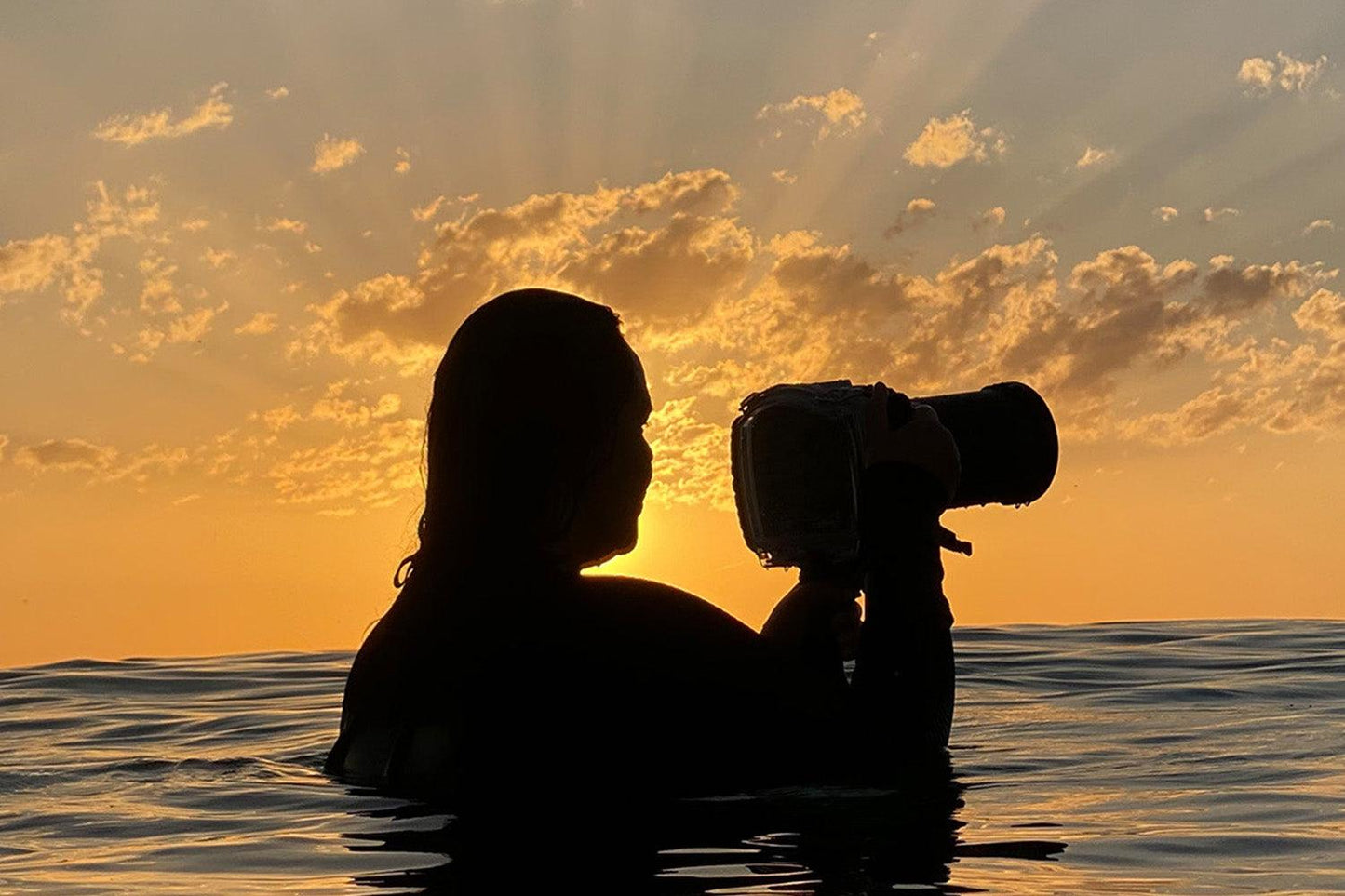 Fernanda Grace
We are continuing our celebration of World Photography Day by highlighting Fernanda Grace. Her work captures the joy of being around the water. As a frequent traveler Fernanda has photographed some of the most famous surf spots in the world from the rugged Brazilian coast, to the sunny shores of Southern California. In our interview with Fernanda we go over her early days as a photographer, her favorite places to shoot, and how she stays motivated
Tell us a little bit about yourself and where you are from?
My name is Fernanda Grace; I'm originally from Rio de Janeiro, Brazil. When I was 22 years old, I moved to California to study abroad. California became my new home, where I lived for 15 years before relocating to Barcelona, Spain, eight months ago. I've been shooting with AquaTech (AxisGO + Water Housing) since 2019. Water photography is a passion, and I love to capture memories that I can look back on and cherish forever; it is also a great way to express my creativity.
What made you decide you wanted to buy water housing and get into water photography?
Water photography started making its way into my life in November 2019 after attending a surf therapy session led by the surfer Alex Gray (
@a_gray
) called AGray Surf Therapy. Alex created this group with surfing as a healthy outlet for people grieving the loss of loved ones after he had lost his brother Chris 14 years ago. I lost my younger brother, Eduardo, in October 2017. There are many types of therapy, and I have found water therapy to be very helpful. After the first therapy session, I felt I needed to be close to the water to help my healing journey. Shortly after, I became a photographer volunteer for A Walk on Water (
@awalkonwater
), a surf therapy for children with unique needs and their families. For the first time, I saw a photographer shooting in the water. I got home after the event and purchased my first
AxisGO
!
Were there any photographers that inspired you when you first picked up the camera?
Ana Catarina (@anacatarinaphoto) was and still is a massive inspiration to me. She is a storyteller and is paving the way for female photographers in Brazil and overseas. Her photos from Portugal and Indonesia are incredible. Felipe Silva @aquachara, who lives here in Barcelona with his family, has taught me so much. He has been a creative inspiration with his eye and his view of the ocean. For instance, the beauty of waking up early and experiencing cinematic sunrises, as he likes to call them. Also, I would love to add Ryan Pernofski, Cait Miers, Bruno Bezerra and Séréna Lutton.
How does your approach change when photographing portraits versus more action-oriented scenes?
With portraits, I enjoy having time to plan, work on moodboards, and have a complete creative process. Action-oriented scenes are all about positioning and the conditions around me. Knowing which equipment I will choose for each shoot is also essential.
What is the most satisfying part of water photography for you?
Water Photography changed my life! It introduced me to a whole new world, community, and places. A new world that I can discover, explore and be a part of. I feel most at peace while in the water and capturing those moments. I also feel closest to my brother while I am in the ocean; it's like he is there with me. Then when I go back and look at what I captured, I have a sense of joy and peace, knowing he was with me when I took these. I can go back and relive those moments through my photos. My brother always encouraged me to live an epic life. Water photography is truly an epic experience, and he would have loved it. Without a doubt, I know this is a gift from him. In addition, it has brought a community of people I was able to meet and be a part of. I'm lucky to cross like-minded individuals' paths and build lifelong friendships because of water photography.
What makes a photo successful for you? When do you feel satisfied with a photograph? 
I like to capture the moment. To see someone happy, playful, and carefree in some sense. I feel like you can capture that in the water. I hope my work inspires people to get in the water and explore.
How has your photography evolved?
I just shot with my iPhone for the first year after purchasing the AxisGO. Like Chase Jarvis said: the best camera is the one with you. I lived by that for a while when it came to water photography. I realized I was ready to invest in water housing a few months later. 
What is your creative process? Do you utilize much post-processing for your imagery, or are you more inclined to capture in camera?
Capture in camera for sure. I do editing using Lightroom and Tezza. To create stories on Instagram, I use Tezza and Unfold. Recently I've been focused on learning more about videography, and I've been watching many videos from Nolan Omura, a Water-based Photographer & Videographer from Hawaii. He shoots amazing ocean content.
Did you have any specific moments when you knew you wanted to become a photographer? 
My grandfather used to travel the world with the Brazilian navy and captured photos at each place he traveled. I remember him showing me photos, and I recognized that photos are the best way to capture our memories. His photo albums are our family keepsake. After that, I acted as the photographer for our family vacations. After my second volunteering event with AWOW, I knew water photography would be part of my life forever. A new passion was born because I found a way to be in the water and take photos.
What would your dream water photography location and shoot be?
South Africa is a dream destination for its scenery, and one organization I'd love to work with is called Surfers Not Street Children (@surfersnotstreetchildren). They are a world-renowned organization that empowers street children and children at risk in South Africa. Also another dream I have is to teach water photography to kids one day. I believe that we should invest in the next generation of surf photographers. 
You've photographed in many different locations. Are there any locations that you find particularly inspiring? 
The Mediterranean has so much to offer. Spending summer in Europe has been a dream, and I've been so inspired lately to create and explore with friends. I love the waters in Formentera, the Costa Brava, and Croatia.
You often use an AxisGO setup. How has that experience been? Has it been challenging to switch between a traditional camera setup and the iPhone? 
My AxisGO is part of my beach essentials kit. I use it often, and so do my friends. The iPhones nowadays have great cameras, and it's easy to edit photos and share them. However, I will bring my AquaTech setup for a more elaborate shoot.
Are there any particular sessions or memories you've had in the water that sticks with you?
Every volunteer session with A Walk On Water had an incredible impact on my life. Seeing the young athletes surfing for the first time was really cool. My second favorite memory was during Christmas. I asked the owner of the surf school I worked with to dress up as Santa Claus, and we had a full-on Santa surfing Christmas shoot. 
What does your current camera kit consist of? Please include the camera, lens(es), housing, lens ports, etc.
I currently have an under-over AxisGO Kit for iPhone 11 Pro Max and one AxisGO for iPhone 10 plus. I always carry an extra AxisGO just in case a friend would like to try it for the first time. In terms of camera gear I have the Canon R5 with the EDGE Sport Housing and M3 Pistol Grip. In terms of lenses I use the RF 70-200mm 2.8, and the RF 50 mm 1.8. I also have my grandpa's vintage Asahi Pentax MX 35mm that he purchased in 1983, but unfortunately, there is no way to waterproof that 😁
I am so grateful to have this gear that has provided the last four years of countless experiences and I'm excited to see what the future holds on this journey with AquaTech!
Thanks very much to Fernanda for being a part of our World Photography Day celebration and for sharing her world with our world. You can find more of Fernandas's work on her Instagram page
@fernandagrace___
.