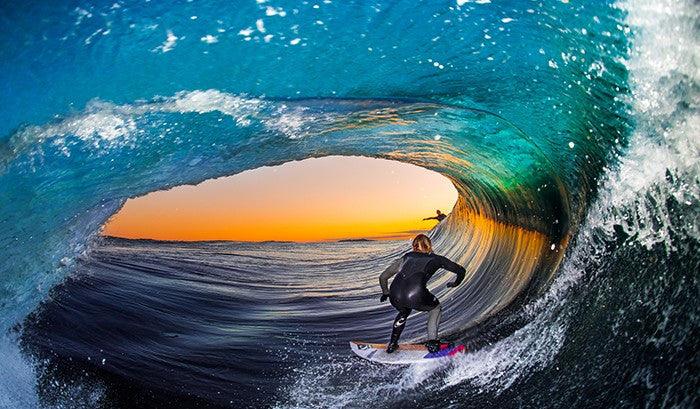 ~Originally published November 17th, 2015~
Young Australian photographer Leroy Bellet has taken the world by storm with his take on what surfing images should look like in 2015. You should also note when we say young, we mean real young. Sweet sixteen this young man is and in the last year has nailed 4 international magazine covers and counting. Leroy has shared some words with us on what it took to capture these incredible images.
Standing out from the crowd has never been harder. In this modern world, surf imagery is captured, posted and then lost at the bottom of a feed in all but the click of a few buttons. There are very few iconic surf images that resonate in my mind when I really think about it. There are amazing moments happening in and around the water on a daily basis, but being there to capture them is sometimes more right-place-right-time than anything. Sure it still takes skill to capture them, but it's hard to build a solid portfolio when your ideology is based around fluke imagery. Nowadays I think the real trick to capturing something remarkable in the ocean is to allow yourself to be willing and creative.

For me, being a teenager, physical willingness comes pretty easy. Testosterone pretty much throws me into situations whether I like it or not, so I feel portraying that in my work is crucial. Creativity means playing a part in making the moment, not just being there. And with this in mind I set out to capture unique and remarkable surf images that would hopefully make the audience spill their coffee, hold their breath and dive for cover.
The flash double tow was basically an adaption to Laurent Pujol's original double tow concept. It involves a photographer being towed into a wave on a surfboard by a jet ski, following behind the surfer. The original idea was different because it gave a unique, dramatic and beautiful perspective on the way surfers ride the barrel. I think this way of documenting barrel riding can be appreciated by anyone because it really engages the audience in the moment. My daytime version is much the same, however the magnitude and perfect shape of the local reef-break adds a touch of raw Australian beauty. The additional flash element enabled me to light up the subject from behind and meant it would be possible to have unique natural lighting in the background at sunrise/sunset.
I had no previous experience with using speed lights so the technical side of this was new for me. Basically, with the help of a dedicated crew of local surfers we went out in the darkness and just had a shot at it. Equipment wise I made no exceptions on image quality; when you put yourself on the line that much you want to be able to rely on technology. This meant using the Nikon D810 full frame DSLR, Nikkor 16mm 2.8 fisheye, Nikon SB-910 speed-light, AquaTech Elite D810 water housing, AquaTech pd-50 dome port & AquaTech strike 910 speed-light housing. I chose the D810 because of its renowned low light capabilities and ISO range. The 16mm fisheye allows for a full wide angle view, to put the audience right in the moment. The SB-910 speed-light has high speed sync and is relatively compact. AquaTech make the strongest and most versatile camera and speed-light housings on the market and their small pd-50 dome port always keeps water droplets to a minimum. My basic settings were: 1/1 (full power) on the sb-910 at 17mm (the widest flash possible), ISO of 800, shutter speed of 1/800sec and aperture of 5.6 on the D810.
What I'd imagined the images to look like was reflective and glossy but I was surprised at just how much clear water absorbs artificial light rather than reflecting it. The result was an eerie image in which only turbulent water was illuminated and the surfers are either riding into the darkness or the sunrise/set. So after 4 months, 3 hospital visits, 2 broken boards and an infinite amount of memories, I'm proud to present these images and I hope you can appreciate them.
You can find more of Leroy's work on his
Instagram
and
Website
.