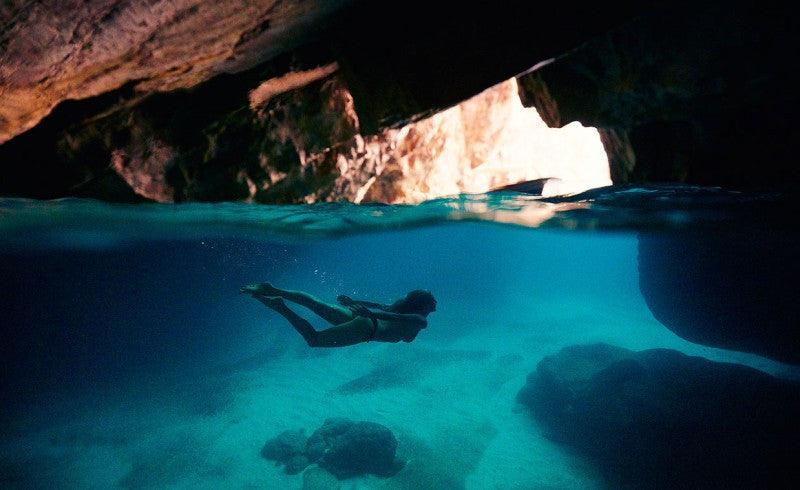 ~Originally published September 23rd, 2015~
Shooting in Italy was bit of an eye opener for me. I heard The Mediterranean had clear water, but I didn't think it would be like Tahiti or Fiji. It's crystal clear! I'm not used to shooting water that is not moving violently, so it was all about backdrops and the subject at hand – mainly my wife and sea caves!
I wanted to pack lightly, taking only 1 camera body (the new Canon 5DSR), couple of lenses and my Elite 5d3 PD-85 and P-70ex extension, the bare essentials. It was the lightest I've ever travelled. Normally I am that dork at the airport with 4 large pelican cases struggling to fit it all in one taxi.
I also didn't expect the weather to be so damn good, every day. Clear skies for days and days. The light was so predictable. I mainly shot at the start of the day or the end of the day. OK, more at the end of the day (maybe after the odd beer) as I was having a break from waking up at the crack of dawn.

It was my first trip with the new Canon 5DSR. It looks, feels and shoots all the same as the 5D iii. The main difference I noticed is when I got back home and someone ordered a 2.5 metre wide print of a shot from Italy. I cringed when I saw what I shot the image at…F4, ISO 3200 1/500. I just knew those settings won't blow up huge and the high ISO will pixelate the print at even 1 metre wide. Before calling back the customer to say "Hey Man, can't do it"…I printed a test strip…and by gosh…it printed beautifully. All those 50 megapixels were working their ass off to present this sharp, non-pixelated image. I'm so happy with the new 5DSR that I just ordered a 2nd one and they will replace my Canon 1dX's which have been my go to cameras for years.